Uncategorized
Science Space provides virtual excursions to students in lockdown
Remote learning livestreams delivered to nearly 1,200 students across NSW and Victoria
A remote-learning program developed by the University of Wollongong's Science Space for New South Wales schools during their COVID-19 lockdown has been extended to schools in Victoria, where the response has been enthusiastic.
With students in Victoria under lockdown again, the take-up from schools in that state has snowballed over the past few weeks.
The program began in March this year to help engage students learning remotely from home, offering free livestreams of Science, Technology, Engineering and Maths (STEM) learning sessions. With support from South32, this soon developed into a blended learning package called Takeaway STEM that includes physical activity materials, worksheets, videos and live virtual classroom learning support for students.
Science Space also launched a suite of live science shows – virtual excursions – delivered direct to remote classrooms via Livestream, as well as Australia's first Livestream Planetarium shows.
"When schools were forced to go into remote learning and excursions cancelled for the foreseeable future, we noticed many teachers desperate for something to fill the gap they would have filled with a visit to the Science Space. We started with 140 free bags of take-home STEM experiments and the projects grew from there," Science Space Director Stuart Creal said.
To date, the innovative science centre and planetarium has delivered remote STEM learning to nearly 1,200 primary school students across NSW and Victoria on topics ranging from space expeditions to terrarium building and liquid nitrogen to the secret life of bees.
Sarah Torcasio, teacher at Ashley Park Primary School in Doreen on the north-eastern outskirts of Melbourne took her Year 1 and 2 students on a Science Space virtual excursion.
"Our incursion was so educational, informative and so much fun! The kids loved it and had so many great things to say and so many questions about space! This experience was so much fun, especially during remote learning," Ms Torcasio said.
In addition to the virtual learning options for classrooms, Science Space will continue to offer more than 50 free home science experiments, workbooks and recorded livestream videos to families to help support curious minds no matter the location or travel restrictions.
"Our message to Australia is don't let distance stop your learning and exploration with science. We will continue to ensure all young enquiring minds can access our signature brand of 'facts you can feel'," Mr Creal said.
"While we live in an uncertain time, we promise high quality and accessible STEM learning for all no matter your location."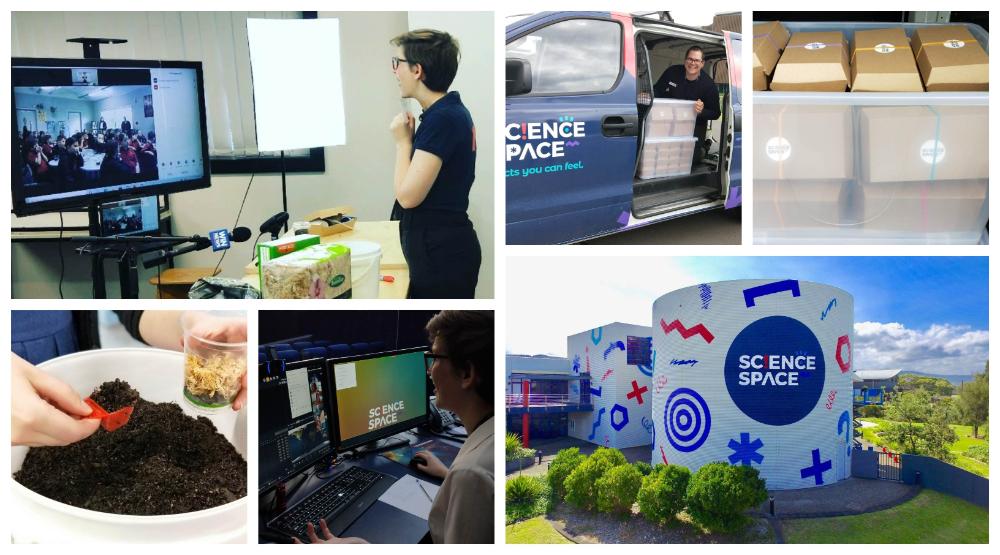 ABOUT SCIENCE SPACE
Science Space is Australia's most successful regional science centre, boasting more than 90 hands-on exhibits, five animatronic dinosaurs, a portfolio of engaging LIVE science shows, NSW's most digitally advanced Planetariums and purpose built STEM Zone dedicated to delivering innovative learning programs for school children.
Schools can learn more about the virtual excursions and make bookings at: sciencespace.com.au/learn/science-space-virtual-excursions/